5. 
Archaeological Site at St. Pierre's Cathedral
Located on the peak and heart of Geneva's old town, St. Pierre's Cathedral offers many activities for all types of tourists. To start, located at the top of the old town, the breathtaking view alone gives the the Cathedral the view of the Swiss Alps. This view is priceless and if you are lucky enough to travel to Geneva, this is a must see attraction. Not only is the view a main reason to visit, the architecture is a feat in its own right. The carvings on the wall and magnificent 3rd century-BC feel gives it the feeling you truly are in Geneva's old town.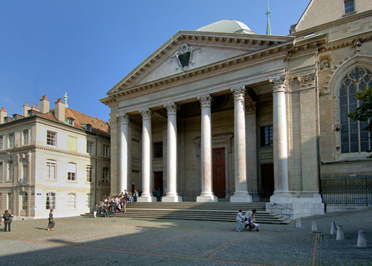 4. Patek Philippe Museum
Tick tock, the Patek Philippe Museum is the home of a massive clock and watch collection located in the heart of Geneva. Here you can see a collection of magnificent watches which remained in mint condition through decades. Visiting the Philippe Museum is a good change of pace from the hustle and bustle that Geneva offers.
Another interesting museum which offers culture not only tied around Geneva and Switzerland but also from around the world. This beautiful museum makes up for its size with the content inside of it. Incredible art from all over the world is squeezed into a the small museum which packs a punch once you enter it. Overall, this museum focuses on far east oriental based artwork which is beautiful.
2.
Parc La Grange
Parc La Grange is a great change of pace from all of the museums you will be visiting while in Geneva. Here you will be at one of the most beautiful and extensive rose gardens in all of Switzerland. Opposite from the grand lake of Geneva, this park offers something for the whole family. Enough room for the kids to run and play, to a nice romantic picnic near the roses. Also, in the summer the park offers movies, concerts and other outdoor events. Not only is the park beautiful, it is ecologically friendly and helps the greenery in all of Geneva. 
1. Lake Geneva
No surprise here that the great Lake Geneva is the top tourist attraction in the great city of Geneva. This lake can occupy your entire trip in Geneva. The activities are endless and the scenery is simply breathtaking. There's no doubt that when in Geneva, you will make your way to the grand lake and just enjoy it and take it in. 
If you're looking for the full list of travel hot spots in Geneva, please visit: TripAdvisor